Rabbit Breeders / Rabbitries
Mad Hatter Rabbits
A rabbitry in Northern Arizona raising Champagne d'Argent, Silver Marten, Rex, Mini Rex, and Holland Lop rabbits for pets, show, and meat.
---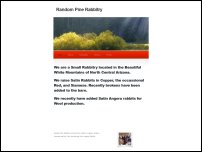 Random Pine Rabbitry
Raising Satin Rabbits for meat. Raising Britannia Petites in REW for pet or show. Raising Satin Angora for wool production
---
Happy Tails Flemish Giants
We offer Flemish Giants in 4 varieties: Blue, Black, Fawn, and Sandy. We are registered members in good standing with both the ARBA and NFFGRB. All of our breeding stock are Registered with ARBA and their off-springs are eligible for registration.
---
Barbi Brown's Bunnies
Rabbit care and husbandry info from someone who has been raising bunnies for 27 years.
---
Tail of Two Bunnies Rabbitry
A small rabbitry in Colorado, specializing in BEW Holland Lops.
---
Woolie Creations Angora Rabbits
Find angora rabbits for sale as well as rabbit care information, photos, and more. Rabbitry located in Griffin, Georgia.
---
JC Bunny Ranch
Specializing in champagne d'argent rabbits. We are located in Martinton, IL.
---
Kelinci Perkelincian Rabbit
Kelinci perkelincian rabbit rabbitry in Indonesia.
---
Tru-Luv Rabbitry
Quality Holland Lops in Malaysia. The experiences of a Holland Lop breeder in Malaysia. All the ups and downs are documented on this blog.
---
Whisper Lops Rabbitry
Whisper Lops is a breeder of purebred Holland Lop rabbits based in the Pacific North West (Newberg, Oregon). We raise sweet & well socialized bunnies that are hand raised from birth. Visit our website to see our bunnies and our contact information.
---
Live Laugh Lops
Raising Holland Lop Bunnies for pets and show located in Barnstead, NH.
---
Brick House Acres Rabbitry
We raise Champagne d'Argent rabbits in central NY. Champagnes are the perfect "Backyard Livestock" providing companionship, meat, manure & fur. Quality pet, breeding & show stock available.
---
Luck-E-Lops
I have a small home based rabbitry in central New York concentrating only on English Lops.
---
LA Lops Rabbitry
We are a small rabbitry located in Medina, Ohio that specializes in raising pedigreed Holland Lops.
---
KK Rabbitry - Rabbits For Sale in Oklahoma
Welcome to Kristdala Kritters (KK) Rabbitry, located in central Oklahoma. Raising Jersey Wooly, English Angora, and Mini Lop Rabbits for show, pets, breeding, rabbits for sale.
---
Marell's & Raeben's Holland Lops
I am a breeder of Holland Lops and just now getting into Fuzzy Lops. I'm in Albany Oregon Valley and I have been breeding and showing Lop ear breeds for about 4 years now. My lines are BBs, Boriack, and mostly L&R.
---
Shiny Satins Rabbitry
Shiny Satins is a small hobbyist satin and mini satin rabbitry run by our family in the beautiful Pacific Northwestern USA. We are located near the border of Oregon and Washington in the Portland, OR/Vancouver, WA area.
---
Glenn Woods Rabbitry
Breeder of quality Lionhead, Dwarf Hotot, and Netherland Dwarf rabbits. Also raise Chinchillas (the rodent, not the rabbit breed).
---
Pixie Hollow Rabbitry
Netherland Dwarf and Dwarf Hotot in Lebanon, Pa. Show Quality Beautiful Netherland Dwarf and Dwarf Hotot Rabbits. My family raises and shows purebred rabbits. We have awesome bloodlines and many colors! We recently achieved a Best of Breed win!! If your child needs a 4-H rabbit please contact us! Our bunnies are handled every day and love to play and be petted. Please visit today! Website is updated daily! We are located near Lebanon, Pa! We are about 30 minutes to Reading and 30 Minutes to Harrisburg and 40 minutes to Lancaster! We show Netherland Dwarf and Dwarf Hotot rabbits in Pennsylvania, New Jersey and Maryland.
---
Penny Hill Rabbitry
Affordable, quality Mini Rex of different varieties in Rhode Island.
---
The Thicket Rabbitry
We are breeders of several rabbit breeds, including Jersey Woolies, Flemish Giants, and Dutch, Thrianta, Check out the nestbox on our site to see some cute pictures of our baby rabbits. We are located in South Carolina, near Clemson.
---
Champion Californian Rabbits - AA Rabbitry
Champion Texas Californian Rabbit Breeders in Southeast Texas.
---
Baxters Bunnies
A small rabbitry with many different breeds and colors to choose from. All of my rabbits are very healthy and very tame. Our rabbitry is located in Appomattox, VA.
---
Heartland Rabbitry
Shiny Satins is a small hobbyist satin and mini satin rabbitry run by our family in the beautiful Pacific Northwestern USA. We are located near the border of Oregon and Washington in the Portland, OR/Vancouver, WA area.
---
PJ'S Rabbit Farm
Breeder of Holland lops, Flemish Giants, and Mini Rex in Southern West Virginia.
---
Hale's Hoppers Rabbitry
Breeding Quality Mini Rex Rabbits in College Station, Texas.
---
Cleveland Georgia Bunnies
A rabbitry in Cleveland, GA specializing in lionhead, netherland dwarf, Jersey wooly rabbits.
---
Kim's Rabbit Hutch
Rabbit Website for all ages. This site is for rabbit breeders and pet owners. It includes information about ARBA, breeding and showing, and making cages etc. Lots of useful information. Breeder of Holland Lops and Dutch rabbits in Meridianville, Alabama.
---